A Sitch in Time
Talk

15
387pages on
this wiki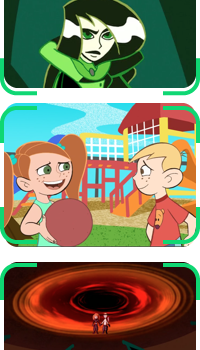 A Sitch in Time
Production Number:
218-220
Season:
2
Executive Producer(s):
Mark McCorkle
Bob Schooley
Kurt Weldon
Writer(s):
Bill Motz
Bob Roth
Art Director(s):
Unknown
Dialogue Director(s):
Lisa Schaffer
Broadcast Information
US Broadcast Number:
34-36
Disney Channel US Premiere:
November 28, 2003
Merchandise
DVD Releases:
Kim Possible: The Complete Second Season
Kim Possible: A Sitch in Time (DVD)
iTunes Releases:
Unknown
Characters (in order of appearance)
Edit
Plot Summary
Edit
Personal Storyline
Edit
Transcript
Edit
Main article: A Sitch in Time/Transcript
Memorable Quotes
Edit
Team Possible's Clothes
Edit
Misc Images From Episode
Edit
Supplementary Information
Edit
Middleton High School Reader Board
Edit
Team Possible's Transportation
Edit
Allusions
Edit
Behind the Scenes
Edit
Cast & Crew
Edit
Executive Producers

Mark McCorkle
Bob Schooley

Story Editor
Writers
Art Director
Line Producer
Storyboard Supervisor
Voice Talent
Dialogue Directors
Voice Casting

Lisa Schaffer
Jamie Thomason

Storyboard
Timing Directors

Barbara Dourmashkin-Case
Eddie Houchins
Gordon Kent
J.K. Kim
Rick Leon
Michel Lyman
Mircea Mantta

Lead Character Design
Character Design
Character Clean-Up
Location Design

Latchezar Gouchev
Andy Ice

Prop Design
Background Paint
Color Stylists
Main Title Design By
Production Manager
Overseas Animation Supervisor
Technical Director
Storyboard Revisions
Continuity Coordinator
BG Key Color Correction
Animation Production by
Film Editor
Assistant Film Editor
Pre-Production Track Editor
Animatic Editor
Scanners

Chris Gresham
Shannon Fallis-Kane

Track Reading
Supervising Sound Editor
Sound Editor
Foley Mixer
Foley Artist
Re-Recording Mixers
On-line Editor
Original Dialogue Recording
Assistant Dialogue Engineer
Manager of Music Production
Post Production Manager
Post Production Supervisor
Audio Supervisor
Post Production Coordinator
Production Coordinators
Production Associate
Production Secretary
Production Control
Casting Manager
Script Coordinator
Produced by

Walt Disney Television Animation
Score by
"Call Me, Beep Me! The Kim Possible Song"

Written and Produced by

Cory Lerios
George Gabriel

Performed by
References
Edit
External links
Edit
Merchandise
Edit
Kim Possible: A Sitch in Time (DVD)
This article is a rough draft.
The proper Manual of Style layout and sections are located above this tag, but the old information which is not in compliance with the Manual of Style is located below.
You can help Kim Possible Wiki by editing the page to bring it more into line with the Manual of Style.
Once all information has been moved from below this tag, please delete the tag and remove the article from the rough draft category.
Ron
learns at the beginning of the school year that his family will be moving to Norway. At the same time,
Dr. Drakken
,
Shego
,
Duff Killigan
and
Monkey Fist
are working together to steal the
Tempus Simia
which means "Time Monkey", a Mystical Monkey Powered idol capable of time-travel.
Mission Briefing
Edit
Villain: Shego, Dr. Drakken, Duff Killigan and Monkey Fist.
Evil plot: Steal the Time Monkey and destroy Kim Possible in the past.
Kim's transportation: Various, but mostly a wristwatch-styled chrono-manipulator device.
Episode Description
Edit
Transcript
Edit
Main article: A Sitch in Time/Transcript
Running Gags
Edit
A running gag throughout this portion of the movie is Ron mistaking any non-English language for another.
Middleton High School readerboard
Edit
Welcome Back Students
Memorable Quotes
Edit
Kim Possible: A Sitch in Time is the first Kim Possible movie, premiering on November 28, 2003. Originally broadcast as three parts, it is available on DVD as a single movie with slight differences in editing and music selection.
When this episode airs by itself instead of the movie, the scene where Ron asked Wade if he had a matter transporter is cut out.
Production Information
Edit
For the original broadcast, it was presented as three episodes: "Present", "Past" and "Future".
First aired as part of the Disney Channel TV movie A Sitch in Time (11/28/03).
When Kim is let out of the sarcophagus in the museum, her hair is messed up. When the camera comes back a moment later, her hair is perfect again.
When Kim is looking in the Latin dictionary she is at "T" but she flips left and is at "S" but S comes before T.
As Kim and Ron pull apart from each other post-hug, Kim's hand goes through Ron's neck and Ron's hand goes through Kim's side.
When pre-teen Kim finishes her try-out routine, Bonnie bites off part of her pencil. When you next see it, the pencil is whole (with no cutaway to for her to grab another).
Monkey Fist shouldn't have been late. After he found the samurai gorilla, he could just go forward in time and stop right before Duff says "he has the power of time, and he's late!" (Monkey Fist didn't technically have any way of knowing, however he knew that Killigan was upset because of body actions and the tone of his voice)
When the four villains open the time portal for the first time (during Part 1) everyone walks through- in order- Monkey Fist, Shego and then Drakken. We never see Duff walk through, however he is later shown with all the villains as if he did so.
Continuity
Edit
Whenever Ron's parents have something big to tell him, they prefer to let actions speak for themselves. This is apparent throughout the series. In this episode, when asking about them moving, his father replied "The sign was our way of telling you". Another instance is when Ron is taken by surprise of his new baby sister in the episode Big Bother.
It's possible that Bonnie Rockwaller, Kim's archrival, may have been on the cheerleading squad longer than Kim has, since she (along with Tara and Hope) were the judges at the tryouts for the squad. If this is true, this may be why Bonnie feels that she should be the squad captain instead of Kim. And apparently when Kim had braces, Bonnie used to call her "Tin Teeth".
Allusions
Edit
In the future, Ron falling to his knees in front of the destroyed Bueno Nacho is an allusion to the ending of the original Planet of the Apes when Charlton Heston's character did the same by the half-buried statue of Liberty.
Full Credits
Edit
Main article: A Sitch in Time/Full Credits
External links
Edit