Frugal Lucre
Talk

0
387pages on
this wiki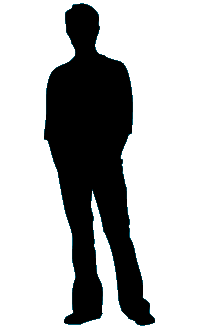 Frugal Lucre
| | |
| --- | --- |
| Full Name: | Francis Lurman |
| Alias(es): | Frugal Lucre |
| Gender: | Male |
| Age: | Unknown |
| Build: | Thin |
| Hair: | Brown |
| Eyes: | Unknown |
| Skin: | Unknown |
| Hometown: | Philadelphia |


Professional Info
Profession(s):
 
Dr. Drakken's Apprentice (former)
Smarty Mart Worker (former)
Affiliation(s):
 
Smarty Mart Staff (former)
Relationships
Relative(s):
 
Mrs. Lurman (Mother)
Friend(s):
 
No Known Friends
Love Interest(s):
 
No Known Love Interests
Pet(s):
 
No Known Pets
Nemesis:
 
Kim Possible
Behind the Scenes
First Appearance:
 
"Low Budget"
Voiced by:
 
Richard Kind
Francis Lurman, better known as the small-time villain Frugal Lucre, is an ex-Smarty Mart employee who relies chiefly on his expert computer skills to make trouble. However, because he is both extremely budget conscious and obviously ill-equipped for a career in evil, he tends to be more of a small annoyance to Team Possible than anything else.
Physicality
Edit
Appearance
Edit
Personality
Edit
Of Team Possible's enemies, Frugal Lucre is an odd mix of excessive megalomaniac and small scale, but he is still surprisingly competent. Virtually everyone around him finds him extremely obnoxious with the sole exception of his mother. This is especially true of any villain that has been imprisoned alongside him. Frugal Lucre's main quirk lies in his being patient enough to get more out of less, though this backfires with regularity. He sees himself as a super-villain who does the same with less, though he is often sneered at by villainous colleagues and heroes alike, and almost no one takes him seriously.
Abilities
Edit
Frugal Lucre's plots are typically centered around hacking or crashing computer systems, his area of expertise. In that field alone, his computer skills appeared to be the near-equal of Wade's, and their first encounter resulted in one of the few times anyone was ever able to crash Wade's system. Frugal Lucre also took advantage of his familiarity with Smarty Mart, his former job, and has twice tried to use their computer systems against them. He has no actual hand-to-hand skills and tends to rely on taking advantage of his surroundings, another reason he prefers to launch plots from Smarty Mart, where he has their vast stock selection at his disposal.
Biography
Edit
Relationships
Edit
Frugal Lucre's only known family was his mother, Mrs. Lurman, who he lived with. While she did seem to be a caring, well-mannered woman, how she reacted to her son's arrest was unknown. If nothing else, for some reason she did not pay his bail, so Lucre served the entirety of his prison sentence. Also of note was the fact that Lucre made no attempt to contact her once released.
Frugal Lucre never had any actual friends, so much as he did people who had little choice but to put up with him for a time.
Dr. Drakken
Edit
As with nearly everyone else who had ever met Lucre, Dr. Drakken found him to be extremely annoying. More so than usual, in fact, as Drakken had been Lucre's unwilling cellmate for much of his prison sentence during Kim's Senior year. Ironically enough, Lucre viewed Drakken as a wildly successful villain, something that Drakken had always desired from his victims and peers. The moment Lucre was released from prison, he tracked down Drakken and asked to be his evil apprentice. Inspired by Lucre's respectful awe of him, Drakken agreed. Though he remained regularly annoyed by Lucre and tended to treat him largely like an unwanted henchman, Drakken had brief moments where he was openly fond of Lucre. Naturally, this ended the moment they were caught, and two returned to bickering with each other. Despite this, Lucre appeared to remain a huge fan of Drakken's.
Shego was completely unimpressed by Frugal Lucre's failed attempt to destroy the internet. In fact, her only interest in him was that he was a major headache to Drakken in particular. Upon learning that Lucre was at their doorstep, not only did Shego let Lucre in, she gave him tips on how best to annoy Drakken, then sat back to watch and enjoy. Much to her surprise, though, Drakken and Lucre bonded and managed a halfway competent scheme that she got dragged along for.
Love Interest
Edit
Paraphernalia
Edit
Equipment
Edit
beef bouillon-loaded water gun
snapping turtles
expired can of Vienna sausages with computer virus trigger
jetpack
laser pin
From "Low Budget"
Edit
Kim: Oh, please! Face it, Lucre. You're not a real villain. You're a... bargain bad guy.
Frugal: Just 'cause I'm budget conscious, doesn't mean I'm not as evil as the other villains. Sure! They have henchmen and their fancy lairs, but I deliver the exact same evil at a fraction of the cost.
Alternate Versions
Edit
Behind the Scenes
Edit
Voice Actor/Actress
Edit
He is voiced by Richard Kind.
Episode Appearances
Edit
Season X
Production
Number
US Broadcast
Number
Episode
XXX
X
XXXX
References
Edit
This article is a rough draft.
The proper Manual of Style layout and sections are located above this tag, but the old information which is not in compliance with the Manual of Style is located below.
You can help Kim Possible Wiki by editing the page to bring it more into line with the Manual of Style.
Once all information has been moved from below this tag, please delete the tag and remove the article from the rough draft category.
Biography
Edit
Francis Lurman
,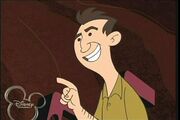 also known as "Frugal Lucre", is a geeky
Smarty Mart
employee
[1]
who threatened to infect the Internet with a virus scanned via the barcode of a can of expired vienna sausages, unless everyone in the world agreed to pay him a dollar each, thus earning him over six billion dollars. He used a fake beard and a pseudo-European accent to disguise himself for his worldwide broadcasts and kept a wading pool of snapping turtles in lieu of a moat filled with piranha. Unlike other villains, Lucre didn't need henchmen or a lair.
After his capture, Lucre appeared as Drakken's cell mate in "Car Alarm" and "The Big Job". As of Drakken's escape in "Mad Dogs and Aliens" he now shares a cell with Motor Ed. He is incessantly chatty, and annoyed Drakken to no end (ironically, Ed was just as annoying to Lucre as Lucre was to Drakken). He is eventually released during the events of "Mentor of Our Discontent", but was captured again at the end of the episode.
Characteristics
Edit
Physical Appearance
Edit
Frugal Lucre is a young, brunette haired and an athletic man. His exact age remains unknown (though given his technical skills it is likely he has graduated from college).
Relationships
Edit
Kim Possible
Edit
Frugal Lucre's rivalry with Kim is hardly a blip on the radar in comparison the rivalry of Shego or Bonnie. For her, Frugal Lucre is a pathetic villain and hardly a proper threat. Kim's interactions with him are limited to chasing him down and pointing out how he's not a supervillain but a "bargain bad guy". If anything, Kim's main issue with Lucre is that his schemes can disrupt her usual activities by shutting down economic electronics such as cash registers at Club Banana.
Dr. Drakken
Edit
He was cellmates with Dr. Drakken. for three episodes at the beginning of season 4. Drakken strongly disliked him because he would not stop talking. He even cheers of being able to escape from him while imprisoned, and is horrified when Lucre finds his lair. The two do reconcile, however, as the two go on their own scheme, but the exact nature of their relationship is unknown after this point, other than that Frugal Lucre was present to cheer Drakken after the events of "Graduation" (and the only villain present to do so).
His criminal name is a spoof of "Real Lucky".

Actually, it is "Cheap Profit".

from "Frugal: Thrifty, Prudent, Miserly" and "Lucre: Swag, Money, Profit".
Appearances
Edit
He is first introduced in the episode "Low Budget".[1].
Reference
Edit
↑ 1.0 1.1 Kim Possible, episode 21, Low Budget (May 16th 2003)