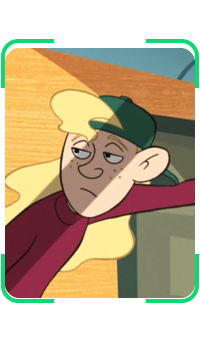 Junior
| | |
| --- | --- |
| Full Name: | Unknown |
| Alias(es): | No Known Aliases |
| Gender: | Male |
| Age: | 14 to 18 est. (season 1) |
| Build: | Average height and skinny |
| Hair: | Long, wavy blond |
| Eyes: | Dark |
| Skin: | Fair with freckles |
| Hometown: | Middleton |

Professional Info
Profession(s):
 
High School Student
Affiliation(s):
 
Detention Guys
Relationships
Relative(s):
 
No Known Relatives
Friend(s):
 
Big Mike
Vinnie
Love Interest(s):
 
No Known Love Interests
Pet(s):
 
No Known Pets
Nemesis:
 
Steven Barkin
Behind the Scenes
First Appearance:
 
"Tick-Tick-Tick"
Voiced by:
 
Diedrich Bader
Junior is a regular in detention at Middleton High School. He appears to get along well with his other detention mates, Vinnie and Big Mike.[1]
Junior doesn't appear to be that intelligent. He looks into the detention room asking if it is the assembly, to which Mr. Barkin tells him to sit down because it is detention. Later, after Vinnie states that Dr. Drakken is using a Gravatomic Ray, Vinnie mixes up the name and calls it a "gravamatromic" ray. Although, in a Ron-esque moment of insight Junior is the one who states that it is a "tiny explosive device" attached to Kim Possible's nose.[1]
Appearances
Quotes
[Junior is intently staring at Kim Possible ]
Junior: Never been this close to a cheerleader. Your skin is so smooth and zit free. Like a baby's bottom.
Gallery
References
↑ a b Tick-Tick-Tick
Ad blocker interference detected!
Wikia is a free-to-use site that makes money from advertising. We have a modified experience for viewers using ad blockers

Wikia is not accessible if you've made further modifications. Remove the custom ad blocker rule(s) and the page will load as expected.