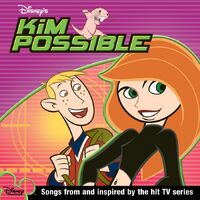 The Kim Possible soundtrack includes songs "from and inspired by the hit TV series". It was originally released in 2003, it was re-released in 2005 as a "new and Kim-proved" version to feature songs that were heard in So the Drama.
Track listing
* featured in So the Drama
Purchasing options
2003 release
2005 release
2006 French version
The French version of the soundtrack includes eight English songs (tracks 2, 4, 5, 7, 10 and 13 from the 2003 release, plus Get Your Shine On by Jesse McCartney and Wake Up by Hilary Duff), French versions of Say the Word and Naked Mole Rap, a few other songs in French, and Mission Kim Possible by Priscilla.
Ad blocker interference detected!
Wikia is a free-to-use site that makes money from advertising. We have a modified experience for viewers using ad blockers

Wikia is not accessible if you've made further modifications. Remove the custom ad blocker rule(s) and the page will load as expected.