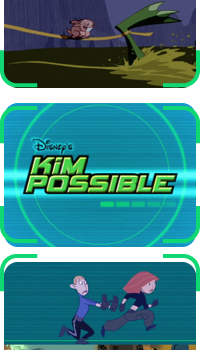 Larry's Birthday
Production Number:
420
Season:
4
Executive Producer(s):
Bob Schooley
Mark McCorkle
Writer(s):
Unknown
Art Director(s):
Unknown
Dialogue Director(s):
Unknown
Broadcast Information
US Broadcast Number:
85
Disney Channel US Premiere:
September 1, 2007
Merchandise
iTunes Releases:
Unknown
Characters (in order of appearance)
Plot Summary
Mission
Personal Storyline
Quotes
Transcript
Main article: Larry's Birthday/Transcript
Memorable Quotes
Gallery
Team Possible's Clothes
Kim
Ron
Misc Images From Episode
Supplementary Information
Middleton High School Reader Board
Team Possible's Transportation
Allusions
Trivia
Errors
Behind the Scenes
Cast & Crew
Executive Producers
Story Editor
Writers
Art Director
Line Producer
Storyboard Supervisor
Voice Talent
Dialogue Directors
Voice Casting
Storyboard
Timing Directors
Lead Character Design
Character Design
Character Clean-Up
Location Design
Prop Design
Background Paint
Color Stylists
Main Title Design By
Production Manager
Overseas Animation Supervisor
Technical Director
Storyboard Revisions
Continuity Coordinator
BG Key Color Correction
Animation Production by
Film Editor
Assistant Film Editor
Pre-Production Track Editor
Animatic Editor
Scanners
Track Reading
Supervising Sound Editor
Sound Editor
Foley Mixer
Foley Artist
Re-Recording Mixers
On-line Editor
Original Dialogue Recording
Assistant Dialogue Engineer
Manager of Music Production
Post Production Manager
Post Production Supervisor
Audio Supervisor
Post Production Coordinator
Production Coordinators
Production Associate
Production Secretary
Production Control
Casting Manager
Script Coordinator
Produced by

Walt Disney Television Animation
Music
Score by
"Call Me, Beep Me! The Kim Possible Song"

Written and Produced by

Cory Lerios
George Gabriel

Performed by
References
External links
Merchandise
This article is a rough draft.
The proper Manual of Style layout and sections are located above this tag, but the old information which is not in compliance with the Manual of Style is located below.
You can help Kim Possible Wiki by editing the page to bring it more into line with the Manual of Style.
Once all information has been moved from below this tag, please delete the tag and remove the article from the rough draft category.
Kim's mission: keep Cousin Larry away until his surprise party is ready, as well as keep Professor Dementor from getting his mitts on her super-suit again.
Mission Briefing
Villains: Professor Dementor
Evil plot: obtain Kim's Battle Suit again. May need to kidnap Kim's boyfriend and sidekick to exchange for it.
Kim's transportation: Kim's car for one.
Episode Description
Transcript
Running Gags
Middleton High School readerboard
Memorable Quotes
Kim: Real World.
Kim: We can go out for ice cream.
Mrs. Stoppable: Thanks for helping Ron watch Hana. I hope she wasn't too much trouble.
Kim: Oh no. No trouble at all.
Ron: Except for the explosion.
Mrs. Stoppable: Explosion! Did you take your sister on a mission?!
Ron: No, no mission. Just an uh, uh... What was that word, Kim?
Kim: (Whispered) Recon.
Ron: Right. We took her on one of those. Perfectly safe. Not like a mission. Except for the lasers. (Kim grabbed Ron's arm, and hurried away.)
Mrs. Stoppable: There were lasers? (Hana laughs.)
Professor Dementor: (about Ron) Now, that strange boy she is improbably dating is the key...
Professor Dementor: You see a guy with Kim Possible, who looks like he should not be with Kim Possible? That is him!
Shego: (reading the newspaper) Well, looks like Dementor won't be using the timeshare for a while...
Dr. Drakken: Ooo, what happened? Busted by Kim Possible?
Shego: No.
Dr. Drakken: Busted by her sidekick what's-his-name?
Shego: No.
Dr. Drakken: The naked mole rat?
Shego: No.
Dr. Drakken: (reading over her shoulder) "Cousin Larry". Hmm. Never heard of him.
Notes
We learn in the Cold Open sequence that Kim and Ron's houses are next door, with only a grey feature-less, door and window-less structure between them which appears to be a large shed and on the Possible property.
Although they appear in this one, Dr. Drakken and Shego both are not actual villains for this episode. Their only appearance was during the end credits as they commented on Dementor's defeat.
Instead of calling him a "Pink Weasel Thing", Drakken finally refers to Rufus as a Naked Mole Rat.
This episode shows only the second villain to use a timeshare lair. The only other villain to use one throughout the entire series was Dr. Drakken.
Apparently it is legal to own pumas, grizzly bears, and alligators as pets in Middleton, since Kim made no attempt to have Sassy's owner dealt with. Although it is highly unlikely that Middleton laws allow anyone to take a pet puma for a walk on a leash, in what looked like a public park, where it could potentially (and in fact did) attack people. Especially if the owner is elderly, arguably senile, and barely able to control the animal. So it is pretty odd that Kim didn't at least report that to someone.
Production Information
Errors
When Kim uses the handprint reader in her room, she is wearing her mission gloves. In most cases, you would wear gloves to avoid leaving your fingerprints, and wearing them while using a handprint reader should have made it next to impossible to get a clear read on Kim's identity.
Larry's buck teeth were missing in both the scene where his arms are crossed in the comic books store while Ned tells Kim what Larry is and when he jumps high out of a forcefield from Kim's battlesuit while he's wearing it and while fighting Professor Dementor at the same time.
Kim doesn't believe that Hana could cause the explosion, but she should be aware by now that Hana is the Han and capable of such a feat.
Continuity
While trying to fend off Sassy the puma, who "doesn't like men so much", Ron says he is barely a man and refers to a mix-up at his Bar Mitzvah. The mix-up was explored in depth in "Ron the Man".
This episode adds another person to the list who have used Kim's battlesuit. Now, Kim, Ron, Professor Dementor, and Larry have all worn the battlesuit.
This is another episode, which brings up Kim's love of Cuddle Buddies. The first was Downhill, and there was also the episode The Truth Hurts.
Since her introduction in Big Bother, this episode is the second time Ron has taken his baby sister Hana on a mission with him.
Allusions
While in the comic book store, Charlotte talks about a comic called the Green Llama. This is really a parody on the DC comic series and character called Green Lantern.
Cast
Full Credits
External Links
Ad blocker interference detected!
Wikia is a free-to-use site that makes money from advertising. We have a modified experience for viewers using ad blockers

Wikia is not accessible if you've made further modifications. Remove the custom ad blocker rule(s) and the page will load as expected.