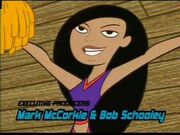 Mark McCorkle is one of the creators of Kim Possible. He created the show along with Bob Schooley. During the entire run, both have served as Executive Producers, Writers and Story Editors of the series.
Mark thought of the initial concept of the show when he said to Bob, "Kim Possible, she can do anything!"
Both are the producers of Penguins of Madagascar and Monsters Vs. Aliens TV Series.
External links
Ad blocker interference detected!
Wikia is a free-to-use site that makes money from advertising. We have a modified experience for viewers using ad blockers

Wikia is not accessible if you've made further modifications. Remove the custom ad blocker rule(s) and the page will load as expected.