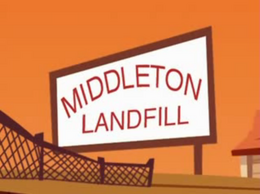 Middleton Landfill is where much of Middleton's trash ends up.
Location
The landfill is located somewhere in Middleton, though more than likely in a less populated area or the outskirts, due to the smell and the absence of nearby buildings.
Description
The landfill has a wooden walkway that offers a fairly wide view of the area.
Points of Interest
Events
Team Possible relocated Roachie and the other cockroaches abnormally enlarged by the Roflax to the landfill, deciding it was best place for them.[1]
Gallery
Trivia
Behind the Scenes
Episode Appearances
Season 3
Production
Number
US Broadcast
Number
Episode
309b
61b
Roachie
References
Ad blocker interference detected!
Wikia is a free-to-use site that makes money from advertising. We have a modified experience for viewers using ad blockers

Wikia is not accessible if you've made further modifications. Remove the custom ad blocker rule(s) and the page will load as expected.