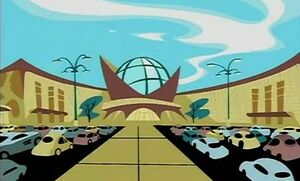 Middleton Mall is a two-story shopping mall located in Middleton, which also has stairs and escalators.
One of the many stores inside this mall is Club Banana, which is frequented by Kim Possible and Monique, where they both work part-time.
There is also a food court in the mall, which has some fast food restaurants, such as Pickle on a Pike, which is one place that very briefly did hire Ron, before they fired him because of an accident that he had while working there in The Big Job. One of the mall regulations forbides the impersonation of a president, which Wade got in trouble for dressing like Abraham Lincoln in The Cupid Effect after he tried talking to Monique, who he was crushing on at the time.
In the episode Pain King vs. Cleopatra, some wrestlers, Pain King and Steel Toe, made a mall appearance along with their manager, Jackie Oakes.
This is also the very first place that Kim began to disappear in the episode, Blush, after she was sprayed by Dr. Drakken. She tripped and fell down some stairs, while trying to impress Josh Mankey, who she had a crush on at the time.
Ad blocker interference detected!
Wikia is a free-to-use site that makes money from advertising. We have a modified experience for viewers using ad blockers

Wikia is not accessible if you've made further modifications. Remove the custom ad blocker rule(s) and the page will load as expected.