Middleton Medical Center is Middleton's local hospital. Dr. Ann Possible works there as a neurosurgeon.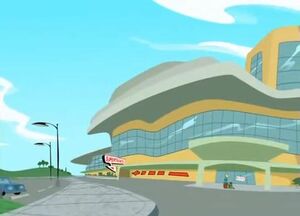 Location
It is located somewhere in Middleton.
Description
It contains an emergency room, nursery, pediatrics ward[1], and a surgery area.
Points of Interest
Events
Jim and Tim were injured while jumping off the roof of the Possible home, trying to perform one of Adrena Lynn's faked stunts. They were taken to the hospital, where Jim's right arm was put in a cast, and so was Tim's right leg.[4]
Kim assisted her mother in surgery as part of their Mother's Day plan to spend the whole day together.[5]
Ron dragged Ann away from work in order to tell her that Kim had been turned into a monkey. He was partially mistaken, but she assumed he was joking, anyway.[6]
Drakken and Shego broke into the medical center to steal Dr. Langford's Memory Recovery Machine while Kim and Ron were making their regular visit to the pediatrics ward. Kim and Ron prevented the theft, but the machine exploded during the conflict.[1]
Gallery
Trivia
Although not seen as often as Middleton High School's, the medical center also has a readerboard out front with a varying message.
Behind the Scenes
Episode Appearances
Season 4
Production
Number
US Broadcast
Number
Episode
418
83
Clean Slate
References
↑ a b Clean Slate
Ad blocker interference detected!
Wikia is a free-to-use site that makes money from advertising. We have a modified experience for viewers using ad blockers

Wikia is not accessible if you've made further modifications. Remove the custom ad blocker rule(s) and the page will load as expected.