Middleton Park is a local park in Middleton. Kim and Ron do not seem to frequent it, either because it is mostly for children, or they are presumably busy with other activities.
Location
The park is within walking distance of the Possible house, as Kim has gone there at least twice on foot with no trouble.[1][2]
Description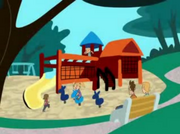 The park has a playground area for children, but mostly seems to contain large, grassy areas, sidewalks, trees, and benches. There is also a pond and a greyish building of some form is located behind the park[1].
Points of Interest
The park has a formerly graffiti-covered wall that Josh Mankey and some neighborhood kids painted a mural on.[2]
Events
Kim organized a clean-up of the park as a project for Middleton High School's environmental action club.[1]
Josh took Kim for a walk through the park as part of their date.[2]
Gallery
Trivia
Behind the Scenes
Episode Appearances
Season 2
Production
Number
US Broadcast
Number
Episode
212
34
Queen Bebe
223
37
Blush
References
↑ a b c Queen Bebe