Middleton Space Center
Talk

0
387pages on
this wiki
The Middleton Space Center was, not surprisingly, typically the site of rocket launches, as well as the target of hi-tech thefts. It is perhaps best known for being the workplace of famed rocket scientist Dr. James Possible, father of Kim Possible, and Jim and Tim Possible.
The Space Center is located somewhere in of Middleton.
Points of Interest
Edit
Home of the most powerful electromagnet in North America.[1]
Both noted robotics authority Dr. Vivian Porter[1], and cyber-robotics genius mother of Felix Renton, work in the Robotics Department.[2]
Dr. James Possible began the Rocket Boosters program for kids when Kim was 8 years old, in order to share his work with her. The program had an annual open house day where kids toured the center and met Frederick, a trained monkey astronaut.[3]
Some of the big-shot bosses included: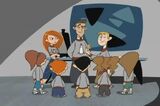 Dr. James Possible accidentally launched the prototype G-6 rocket a week early by leaning against its control panel during a phone call.[5]
Dr. Drakken successfully stole the Hephaestus Project, a $3 billion cybertronics replication investment, by using his brain-tap machine on Dr. James Possible.[6]
Monkey Fist and his Monkey Ninjas attempted to kidnap Frederick and steal a rocket. Frederick escaped, but Monkey Fist accidentally kidnapped Ron Stoppable instead and reached the space station. Kim and Frederick managed to save Ron and capture Monkey Fist, though his Monkey Ninjas escaped. Frederick remained at the space station to begin his year-long mission.[3]
Behind the Scenes
Edit
Episode Appearances
Edit
References
Edit