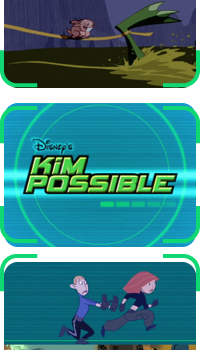 Monkey Ninjas in Space
| | |
| --- | --- |
| Production Number: | 114 |
| Season: | 1 |
| Executive Producer(s): | Unknown |
| Writer(s): | Unknown |
| Art Director(s): | Unknown |
| Dialogue Director(s): | Unknown |
Broadcast Information
US Broadcast Number:
19
Disney Channel US Premiere:
March 7, 2003
Toon Disney Premiere:
April 11, 2005
Merchandise
DVD Releases:
Kim Possible: The Complete First Season
iTunes Releases:
Unknown
Characters (in order of appearance)
Plot Summary
Mission
Personal Storyline
Quotes
Transcript
Main article: Monkey Ninjas in Space/Transcript
Memorable Quotes
Gallery
Team Possible's Clothes
Kim
Ron
Misc Images From Episode
Supplementary Information
Middleton High School Reader Board
Team Possible's Transportation
Allusions
Trivia
Errors
Behind the Scenes
Cast & Crew
Executive Producers
Story Editor
Writers
Art Director
Line Producer
Storyboard Supervisor
Voice Talent
Dialogue Directors
Voice Casting
Storyboard
Timing Directors
Lead Character Design
Character Design
Character Clean-Up
Location Design
Prop Design
Background Paint
Color Stylists
Main Title Design By
Production Manager
Overseas Animation Supervisor
Technical Director
Storyboard Revisions
Continuity Coordinator
BG Key Color Correction
Animation Production by
Film Editor
Assistant Film Editor
Pre-Production Track Editor
Animatic Editor
Scanners
Track Reading
Supervising Sound Editor
Sound Editor
Foley Mixer
Foley Artist
Re-Recording Mixers
On-line Editor
Original Dialogue Recording
Assistant Dialogue Engineer
Manager of Music Production
Post Production Manager
Post Production Supervisor
Audio Supervisor
Post Production Coordinator
Production Coordinators
Production Associate
Production Secretary
Production Control
Casting Manager
Script Coordinator
Produced by

Walt Disney Television Animation
Music
Score by
"Call Me, Beep Me! The Kim Possible Song"

Written and Produced by

Cory Lerios
George Gabriel

Performed by
References
External links
Merchandise
This article is a rough draft.
The proper Manual of Style layout and sections are located above this tag, but the old information which is not in compliance with the Manual of Style is located below.
You can help Kim Possible Wiki by editing the page to bring it more into line with the Manual of Style.
Once all information has been moved from below this tag, please delete the tag and remove the article from the rough draft category.
Monkey Fist schemes to fulfill the prophecy of the Mystical Monkey Monk which will make him "unstoppable".
Mission Briefing
Villain: Monkey Fist
Evil plot: fulfill prophecy.
Kim's transportation: Dr. Possible's car for the space center
A Rocket, in order to get in space, and to rescue Ron, who went into space wth Monkey Fist.
Episode Description
Transcript
Main article: Monkey Ninjas in Space/Transcript
Running Gags
Middleton High School readerboard
Memorable Quotes
Notes
19th episode in chronological order.
Kim can fit into the very same shirt, which her father gave her when she was only eight years old, which is highly unlikely. Her midriff is showing, although Ron's rocket booster shirt fits him perfectly, although, he probably got his rocket booster shirt the same time, although that has not been verified.
Frederick was an astronaut at the Middleton Space Center, and served the prophecy, by being the false brightest monkey, when in reality, the Brightest Monkey was Monkey Fist, himself. The correct prophecy, had already mentioned Ron Stoppable by name, but the monkey, who wrote the prophecy, could not write very clearly, and it was mistranslated, as being "Unstoppable, instead."
Production Information
Errors
At the beginning of the episode, Monkey Fist has four monkey ninjas, but when he invades the space center, he only has three. Later on the space station again, it's back to four.
After the artificial gravity is turned off. Kim is capable of moving through the air with out pushing off of anything. This is a physical impossibility.
When one of the Rocket Booster children says "I think she's my babysitter", the girl with blonde pigtails is the one whose head is moving, implying that she is saying the line. But when we cut to a wide shot halfway through the line, the black-haired kid standing next to her is the one whose mouth is moving.
When Kim shoves Ron out of the Rocket Booster room, she has no backpack, yet when she is crossing the carpark she has one.
At the end, when Kim takes off her space helmet and throws it at Monkey Fist, he breaks it, but when Kim and Ron get off the space ship, she has her helmet back.
Continuity
Allusions
Ron says: "Get yer stinking paws off me, you filthy monkey!". It's a parody of Charlton Heston's classic line from 1968's "Planet of the Apes":"Get your stinking paws off me, you d---ed dirty ape!".
Cast
Full Credits
Main article: Monkey Ninjas in Space/Full Credits
Gallery
External links
Ad blocker interference detected!
Wikia is a free-to-use site that makes money from advertising. We have a modified experience for viewers using ad blockers

Wikia is not accessible if you've made further modifications. Remove the custom ad blocker rule(s) and the page will load as expected.