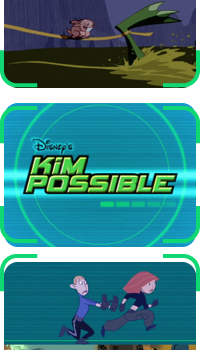 Mother's Day
| | |
| --- | --- |
| Production Number: | 216 |
| Season: | 2 |
| Executive Producer(s): | Unknown |
| Writer(s): | Thomas Hart |
| Art Director(s): | Unknown |
| Dialogue Director(s): | Unknown |
Broadcast Information
US Broadcast Number:
47
Disney Channel US Premiere:
May 7th, 2004
ABC Kids Premiere:
May 6, 2005
Merchandise
DVD Releases:
Kim Possible: The Complete Second Season
iTunes Releases:
Unknown
Characters (in order of appearance)
Plot Summary
Overview
It's Mothers Day, and the heroes and villains each have a different way of expressing togetherness with their mothers; be it picnics, togetherness on the job, or those pesky household chores.
Mission
Protect and/or recover the world's supply of experimental super-concentrated self-replicating synthoplasma. First at its experimental research facility, and then on a high speed military transport.
Personal Storyline
Kim attempts to spend Mother's Day with her mom, despite their equally busy schedules. Meanwhile, Drakken gets an unexpected visit from his mother Mama Lipsky, who is under the impression that he is a radio talk show doctor, and that he has not in fact forgotten Mother's Day.
Quotes
Transcript
Main article: Mother's Day/Transcript
Memorable Quotes
Gallery
Team Possible's Clothes
Kim
Ron
Misc Images From Episode
Supplementary Information
Middleton High School Reader Board
Team Possible's Transportation
Allusions
Trivia
Errors
Behind the Scenes
Cast & Crew
Executive Producers
Story Editor
Writers
Art Director
Line Producer
Storyboard Supervisor
Voice Talent
Dialogue Directors
Voice Casting
Storyboard
Timing Directors
Lead Character Design
Character Design
Character Clean-Up
Location Design
Prop Design
Background Paint
Color Stylists
Main Title Design By
Production Manager
Overseas Animation Supervisor
Technical Director
Storyboard Revisions
Continuity Coordinator
BG Key Color Correction
Animation Production by
Film Editor
Assistant Film Editor
Pre-Production Track Editor
Animatic Editor
Scanners
Track Reading
Supervising Sound Editor
Sound Editor
Foley Mixer
Foley Artist
Re-Recording Mixers
On-line Editor
Original Dialogue Recording
Assistant Dialogue Engineer
Manager of Music Production
Post Production Manager
Post Production Supervisor
Audio Supervisor
Post Production Coordinator
Production Coordinators
Production Associate
Production Secretary
Production Control
Casting Manager
Script Coordinator
Produced by

Walt Disney Television Animation
Music
Score by
"Call Me, Beep Me! The Kim Possible Song"

Written and Produced by

Cory Lerios
George Gabriel

Performed by
References
External links
Merchandise
This article is a rough draft.
The proper Manual of Style layout and sections are located above this tag, but the old information which is not in compliance with the Manual of Style is located below.
You can help Kim Possible Wiki by editing the page to bring it more into line with the Manual of Style.
Once all information has been moved from below this tag, please delete the tag and remove the article from the rough draft category.
Mission Briefing
Villain: Dr. Drakken and Shego
Evil plot: Steal the super concentrated, self-replicating synthoplasma
Kim's transportation: Kim's 4 wheeler
Episode Description
Transcript
Main article: Mother's Day/Transcript
Running Gags
Middleton High School readerboard
Memorable Quotes
Kim: Why is the present buzzing?
Jim: Mom loves honey.
Tim: It's a new strain of honey bees.
Jim: Yeah, they make twice the honey of normal bees.
Kim: I bet they sting twice as much too.
Jim and Tim: Well, duh!
---
Ron: That's right, today's your day, Mom. Whatever you want, you got it.
Ron's Mom: I want a clean garage.
Ron: Mom, I can't do the impossible. That's more of a Kim thing. Oh, oh! How about I glue macaroni's to a coffee can and then spray it gold?
---
Kim: I had no idea how major your job is. I mean it's, it's... well, it's brain surgery.
Kim's Mom: Oooh, you were a big help in there, Kimmie, and you didn't faint once.
Kim: Oh, I was too busy throwing up.
---
Drakken: And so Kim Possible and her... sister, Hmm?
Kim's Mom: Is he hitting on me?
Kim: Nah, sidekicks really confuse him.
---
Ann Possible: (After rescuing Kim from the synthoplasma, she high-fives her daughter) In the zone!
Notes
44th episode aired.
36th episode in chronological order.
Mother's Day is the 37th episode of Kim Possible in production order.
Production Information
Errors
Continuity
Allusions
Cast
Full Credits
Main article: Mother's Day/Full Credits
External links
Ad blocker interference detected!
Wikia is a free-to-use site that makes money from advertising. We have a modified experience for viewers using ad blockers

Wikia is not accessible if you've made further modifications. Remove the custom ad blocker rule(s) and the page will load as expected.