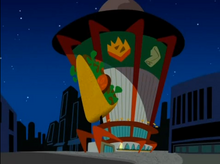 The Mucho Grande Bueno Nacho was an experimental Bueno Nacho restaurant, and the first of its kind in the world.[1]
Location
The Mucho Grande Bueno Nacho was located in Go City.[1]
Points of Interest
The building was considerably taller than a standard Bueno Nacho, and had at least three dining levels.
There were no actual workers at the counter. Instead, interactive menus allowed customers to create and fully customize their own orders.
There was a salsa parade, which contained many bowls of salsa revolving around on a conveyor belt. Presumably, this was only decorative in nature.
Hego, in his alter ego, was the restaurant manager.
According to Hego, menu items were taste-tested by ten random customers before being finalized. The Naco did not test well, and as a result was not added to the menu. Mexi Mushroom Wraps tested very well.
Events
Kim Possible and Ron Stoppable visited the Mucho Grande Bueno Nacho for its Grande Opening day.
Gallery
Trivia
Behind the Scenes
Episode Appearances
Season 2
Production
Number
US Broadcast
Number
Episode
214
35
Go Team Go
References
↑ a b Go Team Go
Ad blocker interference detected!
Wikia is a free-to-use site that makes money from advertising. We have a modified experience for viewers using ad blockers

Wikia is not accessible if you've made further modifications. Remove the custom ad blocker rule(s) and the page will load as expected.