Rufus
Talk

11
387pages on
this wiki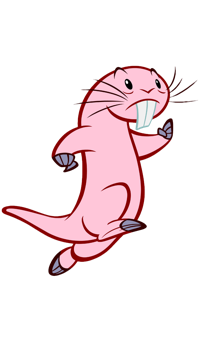 Rufus
| | |
| --- | --- |
| Full Name: | Rufus |
| Alias(es): | No Known Aliases |
| Gender: | Male |
| Age: | 2 (season 1) - 4 (season 4) est. |
| Build: | Rodent-like, slightly rotund |
| Hair: | None, except whiskers |
| Eyes: | Black |
| Skin: | Pink |
| Hometown: | Middleton |


Professional Info
Profession(s):
 
Hero
Affiliation(s):
 
Team Possible
Relationships
Relative(s):
 
No Known Relatives
Friend(s):
 
Ron Stoppable
Kim Possible
Wade
Love Interest(s):
 
Débutante
Pet(s):
 
No Known Pets
Nemesis:
 
Commodore Puddles
Shaun's Iguana
Behind the Scenes
First Appearance:
 
"Tick-Tick-Tick"
Voiced by:
 
Nancy Cartwright
Rufus is a naked mole-rat, the pet friend, and soul brother of Ron Stoppable. He lives almost full-time in Ron's pocket, and accompanies him nearly everywhere. Rufus is exceptionally intelligent for an animal, but average by human standards, and is capable of limited speech.
Appearance
Edit
Rufus was a small, pink naked mole-rat. He has black eyes. He is generally portrayed as light and very agile, which proved useful time and again.
Personality
Edit
Rufus was typically happy and fun-loving. He had a very strong bond with Ron, and shared most of his likes and dislikes, most notably a love of Bueno Nacho food and a strong dislike of monkeys. Because people often reacted to his hairless body with either confusion or disgust, Rufus was fairly sensitive about comments on it.
Biography
Edit
Backstory
Edit
Ron bought Rufus from the pet department at Smarty Mart. Rufus happened to meet Ron's pet requirements exactly, as Ron needed a hairless animal that would not aggravate his father's allergies to animal furs. Though Ron was offered a cage, he chose instead to keep Rufus in his pocket[1], and named him after the imaginary friend he had in pre-K.[2]
Abilities
Edit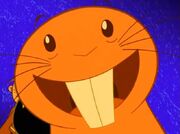 Rufus has displayed a surprisingly wide variety of skills. Shortly after Ron bought him, Rufus proved capable of opening an electronic gate by fiddling with its inner workings.[2] His electronic and mechanical know-how has repeatedly come in handy in various ways: making Rufus a video game legend, operating some of Wade's handheld gadgets, and even freeing Kim and Ron from various deathtraps. Rufus has also used his powerful teeth to cut through rope, grass, ground, concrete, and some metal.
Rufus also possessed an arguably human level of intelligence. He was able to legibly write Ron's name[3], and has articulated a fairly large number of random words in clear English on occasion, though in most cases only Ron could successfully carry on a conversation with him.
Many of Rufus's unexplained abilities may have resulted from various incidents throughout Team Possible's adventures. Rufus was exposed to Mystical Monkey Power at the same time as Ron[4], and displayed a degree of control over it, as well as an aptitude for ninja training, that Ron lacked for some time.[5] Due to his encounter with the top-secret Project Phoebus, Rufus was struck by a beam that contained the brainwave patterns of several geniuses, which in turn made him an unparalleled genius. According to the project's creator, the effects were supposed to be temporary, though during that period Wade admitted that Rufus was, at the time, more of a genius than he ever would be.[6] Rufus was also briefly fused together with Mr. Barkin by DNAmy, which resulted in naked mole-man.[7]
Equipment
Edit
Relationships
Edit
He is the pet and friend of Ron Stoppable, and the ally and friend of Kim Possible and in general is friendly with everyone he meets.
Ron Stoppable
Edit
Main article: Ron Stoppable
Rufus shared several things in common with his owner Ron: the same taste in foods, and an overall laid-back, casual attitude. Unlike Ron, Rufus would abandon this attitude at crucial times, and often used quicker and better judgment than his owner. Still, Rufus stuck by Ron in virtually every situation, even if this was only because he happened to be asleep in Ron's pocket at the time. He also communicated with Ron through a series of squeaks and hisses that Ron alone seemed to understand. Rufus generally got along well with anyone that Ron did.
Kim Possible
Edit
Main article: Kim Possible
Kim's first impression of Rufus was that he was "gross, but handy", and she was reluctant to touch him at all.[2] Over time, she came to appreciate him more, both as a friend and a valuable member of Team Possible, and didn't mind Rufus sitting on her shoulder from time to time. During the occasions when Ron was unavailable for some reason, Rufus would usually turn to Kim first for comfort and companionship.[8][9] Even when Ron was present, Rufus would still occasionally dive into the safety of Kim's pocket when frightened.[10]
Love Interest
Edit
Débutante
Edit
Camille Leon's hairless cat Débutante had a very obvious case of love at first sight when she met Rufus. It seemed to be largely one-sided, as Rufus repeatedly reacted with fear and escape attempts when around her.
Rufus and Ron shared an overwhelming fear of Ron's seven year-old cousin Shaun. In particular, Shaun bullied Ron and tried to feed Rufus to his pet iguana.[11]
Alternate Versions
Edit
Young Rufus from Sitch in Time
Rufus appears in every episode of the series.
In the Lilo & Stitch crossover episode, Rufus was mistaken by Jumba Jookiba for experiment 607 (A.K.A. Launch).

Rufus of course could not be 607, as Ron was about 12 years old when he bought Rufus, while the experiments had only arrived to Earth about a year prior to the episode.

In "A Sitch in Time," despite being with the time-lost Kim and Ron, Rufus encountered 3000 of his "hyper-evolved descendants", strongly implying that he has already procreated, or a lesser thought-of idea being that he was cloned, explaining the future mole-rat's worship of him. They refer to him as Rufus Prime. Although, given the eusocial nature of mole rat society, it may not be so surprising after all.
According to the show's creators, Rufus's name is a pun on the name of the naked mole rat's natural enemy, the Rufous beaked snake.
In the real world, naked mole-rats cannot be kept as pets. They must live in large colonies, and they have fairly strict temperature and humidity requirements and they cannot be exposed to daylight.
Behind the Scenes
Edit
Voiced By
Edit
Rufus is voiced by Nancy Cartwright in all four seasons.
Rufus is 2 as of Season 1, 4 as of Season 4 (estimated, based on his appearance as a newborn in A Sitch in Time).
Episode Appearances
Edit
Appearances in Other Media
Edit
Shows

Rufus was a guest star on the Lilo & Stitch episode "Rufus".

Video Games

Kim Possible: Revenge of Monkey Fist
Kim Possible 2: Drakken's Demise
Kim Possible 3: Team Possible

Disney Parks

Rufus has appeared at Disney's Hollywood Studios park as walk around character on the Streets of America.
References
Edit