Smarty Mart
Talk

0
387pages on
this wiki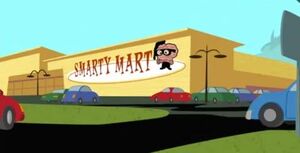 Smarty Mart
is a
Wal-Mart
-type store from the Disney Channel's animated television series,
Kim Possible
.
Club Banana and Smarty Mart are owned by the same corporation. Smarty Mart is reviled by Kim Possible for its low prices, "discounty" atmosphere and unpopularity with fellow trendoids.[1]
Ron Stoppable was a Smarty Mart enthusiast, and shopped there so frequently that he knew the greeter Oscar personally. This was also where Ron bought Rufus.[1] Ron was offered a job by Smarty Mart owner Martin Smarty as thanks for saving him from a kidnapping attempt by Shego, and began working in the pet department.[2] He later found that Mr. Barkin had worked in housewares for almost fourteen years and was truly passionate about it.[3]
There were at least 4,000 locations worldwide, and a new store opened every week.[1] The Middleton store was very close to JP Bearymore's Pizza Party-Torium[4].
Points of Interest
Edit
An employee stood at the door welcoming customers as they entered (similar to the Wal-Mart greeters), while reciting the store's slogan: "Smarty Mart: Where smart shoppers shop smart".[1]
Newly discounted sales at Smarty Mart were known as "Brainstorms".[1]
Smarty Mart sold many different items, which included pets, exotic pets, pet supplies, food, jet packs, sailboats, tires, shampoo, clothes, etc.
The store's mascot was a man dressed as a humongous brain with arms (ending in gloved hands), eyes with glasses, legs with pants and shoes, small mouth (which moves when the man wearing the costume speaks), and a mortarboard.[1]
The name and slogan share similarities to "S-Mart" from the Evil Dead movies.
Martin Smarty, the owner of Smarty Mart (and by extension Club Banana) is one of the 5 richest people in the world, and a poker buddy of Señor Senior, Senior.[2] Seeing as his first name is Martin, its clear that the name of his store is a play on words of his own name. (There may be a pop-culture reference here, since billionaire Bill Gates revealed a number of years ago in the book The Road Ahead that he and billionaire, Warren Buffett, are poker buddies.)
Smarty Mart is a parody of big-name retail chains, such as Wal-Mart, K-Mart, Price Club, and Costco.
The fact that Smarty Mart and Club Banana are owned by the same company probably refers to the fact that The Gap, Old Navy and Banana Republic are all part of the same company, but have a drastic change in price range and style.
References
Edit