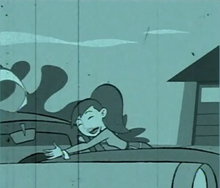 The Ghost Car is a short film shown to the students during their driver's ed' course at Middleton High School[1].
Description
The movie appears to be produced and set in the 50s or 60s when 'sock-hops' and 'soda parlors' were in fashion, and tells a warning tale of reckless driving, with quite some unpleasant scenes, judging by the expressions of the students as they watch it during class. The grey-scale images and the scratchy film reinforce the aged nature of this film.
References
Ad blocker interference detected!
Wikia is a free-to-use site that makes money from advertising. We have a modified experience for viewers using ad blockers

Wikia is not accessible if you've made further modifications. Remove the custom ad blocker rule(s) and the page will load as expected.