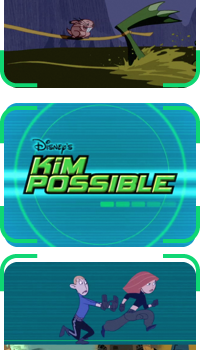 Two to Tutor
| | |
| --- | --- |
| Production Number: | 205 |
| Season: | 2 |
| Executive Producer(s): | Unknown |
| Writer(s): | Unknown |
| Art Director(s): | Unknown |
| Dialogue Director(s): | Unknown |
Broadcast Information
US Broadcast Number:
24
Disney Channel US Premiere:
August 1, 2003
ABC Kids Premiere:
August 2, 2003
Toon Disney Premiere:
April, 2005
Merchandise
DVD Releases:
Kim Possible: The Complete Second Season
iTunes Releases:
Unknown
Characters (in order of appearance)
Plot Summary
Early morning, just before school starts, Kim and Ron jettison from an fighter jet, obviously after a mission, to parachute to school. Kim meets with Monique, and Ron land on a flagpole, and they all go in for registration for elective. Monique tells Kim that Photography is filling up quickly. Bonnie receives the last spot in it, and due to all the other classes being filled, Kim and Ron are forced to attend Home Economics.
At Senor Senior Senior and Senor Senior Junior's Island, Senor Senior Senior hires Shego to tutor Junior in being more evil, with the belief that he is failing to reach Junior, and that is why Junior hasn't succeeded in being interest in evilness yet.
At school, Kim and Ron are disappointed that they could only get Home Economics, because it is said to be boring and miserable. The room is full of spiderwebs and bugs, and Mr. Barkin takes over due to the previous teacher's retirement. It turns out Ron is very good at cooking, as he's been interested in baking since he was a child, and he agrees to help Kim in Home Economics class, much to Kim's amazement.
Shego trains Junior well, much to Senor Senior Senior's growing resentment (for Shego and Junior continuously kicks him out when he comes to check in) and soon they plan to steal a heavily guarded cookie recipe. Kim and Ron show up to stop them. As Kim and Shego fight, Kim lands in a huge pot of supposedly chocolate, with a large electric mixer, Kim uses Ron's inspiration from how he showed her how to use an electric mixer in Home Economics. Kim manages to escape the mixer, and Junior and Shego are taken to a helicopter to jail, but it is revealed Senior is operating the helicopter. He dismisses and lets of Shego, much to Junior's dismay, and she ends up jumping out and riding off with Drakken.
Back at school, Kim starts to get used to Home Economics class, and even though Ron says Photography has more space now that more people have flocked to Home Ec, Kim decides to stay in Home Economics.
Mission
Personal Storyline
Quotes
Transcript
Main article: Two to Tutor/Transcript
Memorable Quotes
"There are no bad students, only bad teachers."
Gallery
Team Possible's Clothes
Kim
Ron
Misc Images From Episode
Supplementary Information
Middleton High School Reader Board
Team Possible's Transportation
Allusions
Trivia
Errors
Behind the Scenes
Cast & Crew
Executive Producers
Story Editor
Writers
Art Director
Line Producer
Storyboard Supervisor
Voice Talent
Dialogue Directors
Voice Casting
Storyboard
Timing Directors
Lead Character Design
Character Design
Character Clean-Up
Location Design
Prop Design
Background Paint
Color Stylists
Main Title Design By
Production Manager
Overseas Animation Supervisor
Technical Director
Storyboard Revisions
Continuity Coordinator
BG Key Color Correction
Animation Production by
Film Editor
Assistant Film Editor
Pre-Production Track Editor
Animatic Editor
Scanners
Track Reading
Supervising Sound Editor
Sound Editor
Foley Mixer
Foley Artist
Re-Recording Mixers
On-line Editor
Original Dialogue Recording
Assistant Dialogue Engineer
Manager of Music Production
Post Production Manager
Post Production Supervisor
Audio Supervisor
Post Production Coordinator
Production Coordinators
Production Associate
Production Secretary
Production Control
Casting Manager
Script Coordinator
Produced by

Walt Disney Television Animation
Music
Score by
"Call Me, Beep Me! The Kim Possible Song"

Written and Produced by

Cory Lerios
George Gabriel

Performed by
References
External links
Merchandise
This article is a rough draft.
The proper Manual of Style layout and sections are located above this tag, but the old information which is not in compliance with the Manual of Style is located below.
You can help Kim Possible Wiki by editing the page to bring it more into line with the Manual of Style.
Once all information has been moved from below this tag, please delete the tag and remove the article from the rough draft category.
Shego tutors Señor Senior Jr. in villainy. Ron also tutors Kim in cooking for home economics class.
Mission Briefing
Episode Description
Transcript
Main article: Two to Tutor/Transcript
Running Gags
Middleton High School readerboard
"CHEZ RON Now Serving"
"CHEZ RON CLOSED"
Memorable Quotes
Barkin (Covered in dough, getting onto Kim) "Maybe a more competent student can tell you what you are doing wrong. Stoppable."
Ron (While rolling an egg down his arm, tossing it, and catching it behind his back) "Be glad to, Mr. B." (Then talking to Kim), "For someone who can disarm a doomsday device, you seem to have major mixer issues."
Kim "Ron, this machine hates me."
Ron (While shaking his head, and hopping onto the table) "It senses your fear. Watch me." (He turned on the mixer, while holding it in his hands.) "Let the beating of blades and the beating of your heart merge together. You and the mixer become one." (He turned it off, and sat it on the table.) "Now you try, and tell me what you feel."
Kim (Picking up the mixer, and holding it in her hands. Ron then turned on the mixer.) "I feel ridiculous!"
Ron "That, Kim, is why you fail."
Barkin "Its like a chocolate cloud."
Ron "Yes, I was going for cloud."
Barkin "Well, that settles it. I am officially turning this class over to you. (Barkin leaves, and Ron and Rufus smack hands.)
Ron and Rufus "Ah-Boo-yah!"
Kim (Picking up communicator) "Wade, code Red! Ron is now teaching our class. Tell me somebody, somewhere needs my help."
Wade "Actually, it's been pretty quiet."
Kim "Come on. A cat stuck in a tree? Anything."
Wade "I got a series of robberies in Europe. But it looks strictly small time."
Kim "Sold! I'll take it, as long as it does not involve baking."
Kim "Too bad about your restaurant."
Ron "Yeah, well, when the Health Inspector saw a live rodent (talking about Rufus), you know, serving the food, the die was cast."
Rufus (Made a noise), "Sorry."
Notes
24th episode aired.
This is an episode where Shego appears in it without Drakken, even though he appeared at the end to pick up Shego, but he never said anything when she said "I've already made other arrangements", then he just turns back around.

Drakken was basically limited to a breif non-speaking cameo at the end of this episode.
Production Information
Errors
In the opening sequence, when Kim lands after jumping out of the plane, her parachute is nowhere to be seen on the ground behind her.
When Kim goofs in home-ec and batter flies everywhere it lands on Rufus and Barkin, but Kim remains clean.
When Ron and Rufus are knocked down to the conveyor belt after smelling the vanilla, Junior jumps down after Ron, only to be cookie-doughed by Rufus, who is back up on the platform at the controls. How did he get up there?? Ron is never shown throwing him up there.

Although, since Rufus was not in Ron's pocket, he may have landed there.

The part in Shego's hair changes frequently from the left to the right side throughout the show. Depending on where she is looking.

That is typical of animation, and not an error

When Shego is standing over Kim on the railing, and says "I've discovered the joys of teaching", her mouth does not move.
Continuity
Allusions
Ron says to Kim, "That Kim, is why you fail". This line is similar to a line in Star Wars: Empire Strikes Back, when Yoda is telling Luke, "That is why you fail".
Cast
Full Credits
Main article: Two to Tutor/Full Credits
Gallery
External links
Ad blocker interference detected!
Wikia is a free-to-use site that makes money from advertising. We have a modified experience for viewers using ad blockers

Wikia is not accessible if you've made further modifications. Remove the custom ad blocker rule(s) and the page will load as expected.