Welcome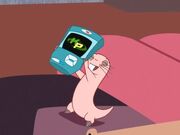 Welcome to the Kim Possible Wiki, and thank you for your contribution to the Dr. Drakken page! There's a lot to do around here, so I hope you'll stay with us and make many more improvements.
Whether you made edits before without an account or if this really is the first time you've edited here, I recommend that you read our "New to the Wiki?" page. It will give you an overview of how things are arranged here, what we expect from our contributors and explain why edits are sometimes changed or undone. When you're ready to learn more, check out the Community Portal.
The next things you should read are the following:
These pages will help you avoid making many common first-time editor mistakes and make the job of the administrators easier.
Other tips:
Glad to have you here, and I look forward to working with you!
Note: This is an automated message, please be patient while waiting for a response to questions as there may not currently be an admin logged in.
Rewrites
Please rewrite the contributions you have just recently made. Read the Manual of Style and adhere to it please and thank you.
Basically: this wikia is to be written from an In-Universe Perspective, meaning everything has already happened, so Past Tense. Also no contractions. In addition episode references are to be written by description with footnote references instead of links to episode pages, or even referring to events by episode names. See the episode Reference policy. Also not to be used are phraseology such as "in the series", "in the show", "in episode".
A good rule of thumb to follow is: if you would not use a term or phrase to describe your day to friends or family(series, episode, etc), do no not use it here.
Again, please review the Manual of Style.
In 2 days time, I shall be undoing your edits if you have not revised them. --Love Robin (talk) 06:36, July 22, 2014 (UTC)